ROGER OF SAN FRANCISCO with his mantra of "No Drugs, No Harm, No Mercy" this master Sadist asks of all his guys "Can you handle it?" Roger is a 5th generation Californian who grew up in a family which he describes as "beyond liberal".

From a young age Roger noticed that even the game of "Cowboys & Indians" had a definite bent toward bondage and rough genital play for him– and later noted that this was the just the beginning. Once reaching adulthood Roger was initiated into the very hardcore world of S&M and B&D and for decades was "for rent" - a sex worker specializing in these disciplines most hardcore practices.

These days Roger lectures worldwide, directs, performs and even edits his own titles along with regularly participating in his website.


We GUARANTEE for S&M, B&D, Leather, Electro and other fetish traffic you will not find a more profitable affiliate site anywhere on the net!

-The Shotgun Video Affiliate Team


In 1993, Roger, heavy into the San Francisco ultra hardcore S&M and B&D fetish scene started Shotgun Video, a man to man amateur video company that specializes in documentaries of the most hardcore rough genital play between consenting adults that are available today.
Using real dungeon players - hot muscular men in real action - he created what has become the most sought after and real videos in this niche. Now known as Roger of San Francisco, his website ShotgunVideo.com has been up and running and extremely successful since 1998. Because of the limited availability of this type of real content, ShotgunVideo.com members stay for years!
50-50 Partner Program
1 MEMBERSHIP - 2 Great Sites




ShotgunVideo.com:
The PREMIER ball bashing site featuring over 200 of Roger's full length amateur videos available for unlimited member streaming. Real Men, Real Muscle, Real Action - Can you take it?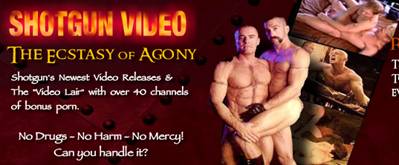 ShotgunVideo.tv:
Look for the newest video releases of Roger's hot, passionate and hardcore Ball Bashing Videos on this site. PLUS12 different full length Bondage, S&M, Leather and assorted Fetish themed DVDs from great amateur porn studios every month AND 32 channels of assorted porn.
Subscribe to Our Newsletter:
To ensure receipt of our newsletter,
please add HotDogMail.com to your authorized email list.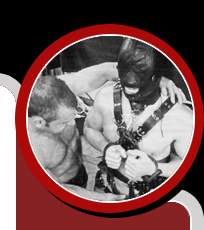 The huge staying power of the Shotgun brand is a product of Roger's twisted imagination along with his "pornographic" memory of the varied sexual encounters he has had over decades with hundreds and hundreds of dungeon players to continually create new experiences and adventures through his videos to share with his members. Roger not only directs and shoots this genre – he's virtually created it over the years. Here's his latest take on Shotgun Video's current video projects.
"Guys have been asking us what makes the intense new bondage scenes in the latest footage so hot--well, actually, there's a word for it--"Predicament Bondage". The way it works is, you find a truly muscular guy, someone who is really tough and not afraid of a serious challenge. Then you tie him in such a way that there is no possible way for him to get out, but you make it so insanely uncomfortable that he has to try. That's where the 'catch' comes in--he feels he has to move to relieve the stresses of the bondage, but every time he moves he makes it worse. So, he moves this way or that, trying to find at least a semi-comfortable position, and each time he does, he regrets it. Why is it that some guys who are trapped between a rock and a hard place get very hard themselves?"
– Roger of San Francisco


Roger's full bio plus two videos, the Beginner Orientation and Roger's Lecture.